Ralph DiLeone Moderates State of Morrisville Event
« back to news list
September 30, 2015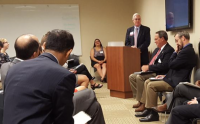 DiLeone Law Group attorney Ralph DiLeone moderated the State of Morrisville event sponsored by the Morrisville Chamber of Commerce. Town and County leaders provided updates and highlights about budgets, growth and development issues, and plans for the future.
Speakers included:
Mark Stohlman, Mayor, Town of Morrisville
Tony Chiotakis, Assistant Town Manager, Town of Morrisville
Ben Hitchings, Planning Director, Town of Morrisville
Jessica Holmes, Wake County Commissioner – District 3
For a recap of the event, take a look at the twitter feed.
« back to news list
Pick a date to schedule an appointment. You will be contacted to confirm availability.